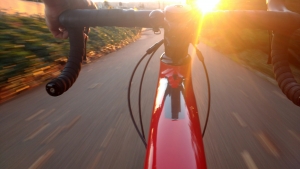 With COVID-19 stay-at-home orders in place, now more than ever North Carolinians are riding their bicycles as a way to get out of the house. In order to reduce the risk of being injured while riding a bicycle, you should always take safety precautions. Here are some steps you can take to prevent being injured while on riding your bicycle.
First, always make sure that your bike is in good repair. Check the brakes before each ride and check to make sure your tires are properly inflated as well. Other equipment you should have on either your bike or you include:
Headlight and rear light.
Wheel reflectors and reflective tape on the body of your bike.
Rear view mirror.
A horn or bell.
Pant clips to keep your clothing from being caught in the wheels.
Bright clothing, day and night.
Wear a helmet and make sure it is properly fitted and fastened tightly on your head.
Obey the Rules of the Road
You should know your hand signals and use them. Do not run stop signs or traffic signals. Always ride on the right side of the road and go with the flow of traffic. Do not pass vehicles on the right side of them, as they may not see you. When in a city, cross the street and walk your bicycle across the cross walk if the traffic is heavy.
Be Aware of Your Surroundings
When riding your bicycle ALWAYS be aware of your surroundings and stay visible. Do not count on drivers noticing you on your bicycle. Wearing bright clothing and having reflectors on your bike can save your life, especially if driving at night or in foggy conditions.
Don't use headphones while riding your bike. You need to be able to hear traffic noises around you. Scan the road ahead of you to be aware of hazardous conditions that might be in your riding path. Any warning signs for cars are even more important for cyclists because you are more exposed than them.
Bicycle Collision Attorneys
Even when taking the bicycle safety precautions, accidents happen.
Maginnis Howard's lead personal injury/bicycle collision attorney, T. Shawn Howard is experienced in handling North Carolina bicycle collision cases. Mr. Howard provides free consultations and case evaluations to all prospective clients who have been involved in North Carolina bicycle collisions. We handle cases throughout North Carolina, including Raleigh, Durham, Chapel Hill, Greensboro, Winston-Salem, Fayetteville and all areas in Eastern North Carolina.
If you or someone you know has been injured in a bicycle accident, call the personal injury/bike accident attorneys of Maginnis Law at 919.525.0450 or call Mr. Howard personally at 919.480.8526.