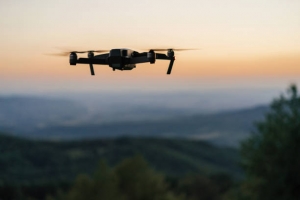 Drones are most commonly used to take aerial photographs. You can see them being used at recreational events such as weddings and sporting events, but they can also be used professionally for environmental reasons or site surveying. However, in North Carolina there is a statute that states, if you have your photo taken by drone without your consent, you can elect to recover $5,000 for each photo taken without your consent.
Any person who is the subject of unwarranted surveillance, or whose photograph is taken in violation of the provisions of this section, shall have a civil cause of action against the person, entity, or State agency that conducts the surveillance or that uses an unmanned aircraft system to photograph for the purpose of publishing or otherwise disseminating the photograph.
In lieu of actual damages, the person whose photograph is taken may elect to recover five thousand dollars ($5,000) for each photograph or video that is published or otherwise disseminated, as well as reasonable costs and attorneys' fees and injunctive or other relief as determined by the court. Evidence obtained or collected in violation of this section is not admissible as evidence in a criminal prosecution in any court of law in this State except when obtained or collected under the objectively reasonable, good-faith belief that the actions were lawful.
To fly a drone in North Carolina, an operator must pass the N.C. Department of Transportation's UAS Operator's Knowledge Test to ensure their safety and the safety of others around them. ​With the passing of the UAS Operator's Knowledge Test as a prerequisite, commercial operators may request a North Carolina UAS permit from the NCDOT Division of Aviation.
Most consumer protection statutes, both state and federal, allow you to recover your attorney fees. As a result, Maginnis Law typically is willing to take consumer law cases on a contingency fee, meaning that you do not owe us anything unless we recover compensation for you
If you have any questions regarding this blog post or would like to speak with one of our consumer law attorneys, give us a call at 919.526.0450, email us at info@carolionalaw.com, or send a message through our contact page.