The truth is that many violent automobile collisions do not result in catastrophic injuries. The majority of North Carolinians involved in car accidents are able to walk away without permanent, life changing injuries. Nevertheless, many less severe injuries can still result in considerable financial burden, physical pain, and disruption to life. Cervical (neck) and lumbar (lower back) strains and sprains are among the most common in motor vehicle crashes. After a car wreck, you may have questions about how to recover fair compensation for whiplash injury.The Raleigh car accident attorneys at Maginnis Howard are experienced in helping folks recover compensation for cervical sprains and lumbar strains.
Tips for Handling Whiplash Cases
Some helpful tips in whiplash injury car accident cases include:
There is absolutely no obligation that you give another driver's liability insurance company a recorded statement in North Carolina. The insurer will frequently try to trick in you into minimizing your injuries before they have an opportunity to progress. They may also try to use the recorded statement as an opportunity to frame the accident as your fault– even partially. Please note that this is different if you are pursuing an Uninsured or Underinsured Motorist claim.
You should seek immediate medical attention after a wreck. An insurance company could use a delay in treatment as a reason to avoid paying out. In some cases, symptoms from these injuries can take days to appear. However, adjusters at major carriers routinely use a delay in seeking treatment to deny claims or minimize the offer.
It is often times a good idea to see a medical doctor before seeing a chiropractor or physical therapist. Many insurance companies minimize chiropractor or physical therapy only claims. However, referrals from doctors to outside treatment can help justify reimbursement.
Obtain all of your medical records and medical bills. You will need these to prove and negotiate your claim.
If your claim involves lost wages because of your whiplash injury, be sure the claim is adequately documented. This includes getting a note from your physician about the whiplash injury and a statement from your employer as to the hours missed and your wage or salary.
Obtain photograph the damage to your vehicle. Insurance companies know that jury verdicts in soft tissue / whiplash cases involving a bad wreck routinely return larger verdicts than in those cases involving minimal damage to the vehicle.
Representation for Car Accident Injuries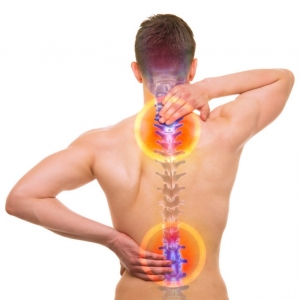 Insurance adjusters frequently offer less than fair value for car accident neck and back strains and sprains. However, the adjusters are not the final say on your personal injury compensation. If Maginnis Howard represents your interests, and the insurance company refuses to offer fair compensation, we will aggressively litigate your claim all the way through trial if necessary. A jury, not an adjuster for the insurance company, will determine fair compensation for your car accident personal injury damages. Our lawyers have years of experience in courtrooms around the Triangle.
Maginnis Howard has represented countless folks who have suffered both short and long term whiplash injuries. We offer free consultations for anyone who has suffered a lower back or neck strain or sprain as a result of a car accident or tractor trailer wreck. If, after speaking with us, you would prefer we help with your cases rather than you go it alone, we will do so on a contingency fee basis – meaning that you only have to pay attorneys' fees if we make a financial recovery on your behalf. If you would like a free telephone or in-person consultation, call our lead personal injury attorney, T. Shawn Howard, at (919) 526-0450 or visit our contact page to submit a new case inquiry. We represent personal injury clients throughout the state of North Carolina.