The Occupational and Safety Health Administration (OSHA) is responsible for investigating serious workplace injuries and deaths. Employers must report injuries to OSHA, and OSHA gathers statistics about common causes of workers being injured or killed on job sites. One of the four most common ways workers are hurt is crush injuries or caught in/caught in between injuries. Crush injuries happen when a person is caught in or caught between machinery or earth. They can involve being pinned between equipment, pulled into equipment, or being suffocated or crushed when earth (such as a trench) caves in. They are very common in the construction and manufacturing industries.
Examples of Caught in/Between Incidents
OSHA has used the following examples to teach their instructors about the dangers of crush incidents:
(1) "An employee and a co-worker were working in a 9-foot deep excavation installing water pipes, when the south side of the excavation caved in on the employee and buried him. The employee was killed."
(2) "A worker was ripping a 6-inch piece of wood on an unguarded compound miter saw. His left thumb was caught in the saw and amputated."
(3) "A worker was cleaning an asphalt paving spreader. Another worker was repairing a pavement roller. The roller was accidentally put into motion and it rolled toward the spreader. The first employee was injured when he was pinned between the two machines."
(4) "An employee was placing dunnage underneath the sheet metal. A coworker was operating a powered industrial forklift loading sheet metal onto a flatbed truck. As the coworker was loading the sheet metal onto the flatbed truck, one of the bands holding the sheet metal together either broke or the clamp was not properly secured. The back band failed and the load of sheet metal slid forward onto the employee, pinning him under the sheet metal and against a dumpster. The employee was hospitalized and treated for a fractured leg and a dislocated knee."
Third-Party Liability Caught in and Caught In Between Negligence Cases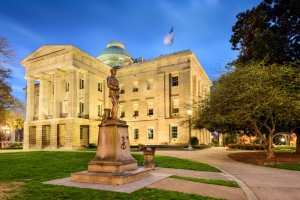 Because machinery and large amounts of dirt and earth are often involved in caught in/caught in between incidents, the injuries can be life threatening and, in some cases, fatal. If the injury or death was solely the fault of the employee or his or her employer, they or their family are likely limited to a workers' compensation claim under federal or state law (although, there can be some exceptions). If, however, the caught in or caught between injury was the fault of a negligent third-party, such as an employee of an unrelated company working at the same job site or location, there could be a valid negligence case against that employee or his or her employer. The right to pursue a negligence case is an important one for you or your family member. Workers' compensation rights can be very limited. For example, wrongful death negligence cases against liable third-parties other than the employer typically involve a far more significant financial recovery than death benefits allowed under North Carolina's Workers' Compensation Act. For folks who are injured, a negligence claim permits recovery of compensation for pain and suffering, something a crush injury victim cannot recover from a Workers Compensation claim. As an example, our firm recovered $599,500 for an electrician working at a close factory who was killed when a crane operator knocked over his scissor lift. The workers' compensation recovery for his family was only about half that amount.
Assistance with Your Case
The attorneys of Maginnis Law are experienced in representing employees injured on the job by negligent third-parties. We have handled complex third-party liability cases, including those involving death and catastrophic injuries. Check our results and testimonials pages to learn more. We offer free consultations to any North Carolinians seriously injured in a crush incident. If your injuries have left you unable to travel, we will come to meet you. If we are able to offer our help, we will do so on a contingency fee basis – meaning you owe no attorneys' fees unless and until we recover a settlement or verdict on your behalf.
If you would like to speak with one of our lawyers regarding your caught in/caught in between injury case, visit our contact page.