By now, most realize that a distracted driver is at least as dangerous as a drunk driver. Even so, there are many folks who would never think about driving under the influence of alcohol but who still regularly text while driving on the highway. Here in Raleigh, it's not all that uncommon to see drivers with their hands on their cell phones and faces down while operating their vehicle 75 miles per hour on I-40. The honest truth is that most people who do so simply think they have more ability to "multi-task" than they really do. Their unnecessary risk taking should not cost you thousands of dollars in medical bills and lost wages.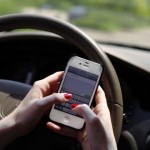 The statistics on texting while driving accidents are sobering. Distracted driving collisions kill almost 3,000 people per year.  A large percentage of these involve texting drivers under the age of 20.  Distracted driving is dangerous, claiming 2,841 lives in 2018 alone. Among those killed: 1,730 drivers, 605 passengers, 400 pedestrians and 77 bicyclists. (Source: National Highway Traffic Safety Administration)
The real threat of a drunk driver is their response to stimulate. Generally, they tend to hit their brakes or take evasive maneuvers late or not at all, resulting in higher speed impacts. Texted drivers are sometimes even more delayed in their response. They're not looking up to even know there is a dangerous situation. This results in an even an even higher percentage of violent impacts. Such higher speed impacts of course correlate to more deaths and serious injuries.
There is no clear case law in North Carolina yet, but there is good support for an argument that texting while driving should support punitive damages. These are damages that are designed solely to punish the person responsible for the conduct, not just to make the injured party "whole."
We can help.
If you or a loved one has been seriously injured by a distracted driver, contact Maginnis Law. Our lawyers regularly assist regular North Carolinians recover fair compensation from negligent driver's and their automobile insurance companies. We will aggressively handle your distracted driver claim and pursue punitive damages against the texting driver, if appropriate.
For a free consultation, send the details of your case through our contact page or give us a call.  We represent normal folks across the state and do so on a contingency basis.  This means that you are not responsible for any attorneys' fees unless we win a verdict or